Elevated Decorating with Statement Ceilings
Often called the fifth wall, ceilings have come into their own in the last year and Toronto homes and offices have seen a spike in beautifully designed ceilings.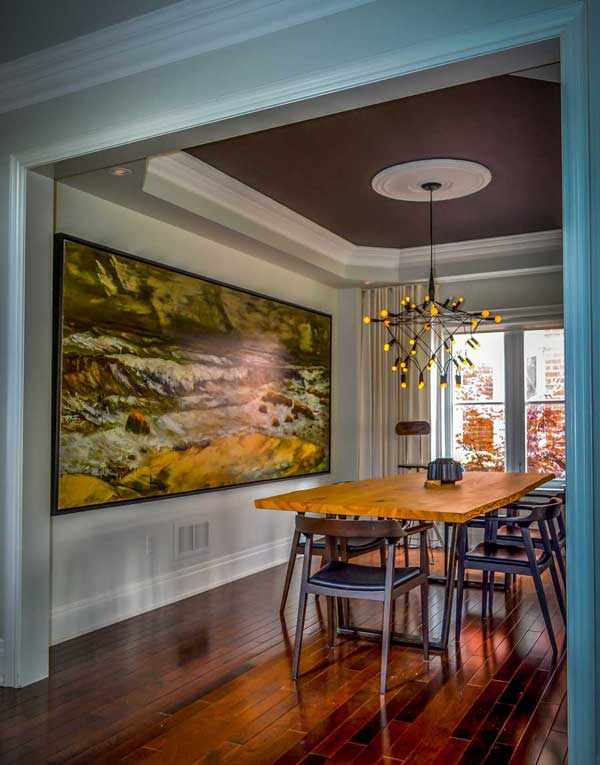 ColourWorks Painting Design has led the way in designing awe-inspiring ceilings that set the tone of the room. Statement ceilings are a wonderful way to express your creativity and style, and the design possibilities are almost endless.
Where previously a white or neutral colour was expected, seen and ignored, today's living room, dining room and even bedroom ceilings are becoming a blank canvas begging for design.
Layer with Dimension
Decorative molding, crown molding or cornice can be an elevating choice for adding dimension to an otherwise boring, flat ceiling. The ceiling can be a rich, deep colour and the molding a crisp white to draw attention to the accent or reverse it for a more European flair.
Sparkle with Specialty Lights
Hidden track lights, recessed pot lights or wall wash lights can make something special out of your ceiling design. A pendant or decorative accent fixture can bring the design together, so consider your lighting options while drawing up your design.
Embellish with Stencils
Let your imagination run with the possibilities of an amazing pattern on the ceiling of your favorite room. Add a touch of class or carefree whimsy with your choice of enchanting designs. Talk to our designer about this powerful decorative application.
Graduate with Colours
If you have a dimensional design with an accent built out around the light fixture or layered boxes, you can capitalize on the nuances of each layer with a varying shade of colour. A faint wisp of gray or mint on one layer can help capture attention to the design while a shading of cream can warm up the light.
Want to go bold with colours? Forget the rules and do what makes you happy. Denim blue walls that also include the ceiling can make a cozy and charming space. A black ceiling that carries an accent wall can actually work on the eye to expand a small space. A hot pink ceiling with neutral walls and furnishings and a hot pink bedspread can make a girl's bedroom a fun place to call her own. A warm lemon ceiling in a white kitchen is fun and vintage at the same time.
Work Wonders with Wood
Thinking more "stain" than "paint"? How about adding paneling or tongue-in-groove to the ceiling for a rustic feel? Or, try shiplap painted a dark colour with light walls for a cozy room.
Go Bold with Geometric Patterns
Ceilings are a perfect place to indulge in a captivating display of a repeating pattern or geometric design. Think of Victorian patterns, diamonds or circles. Use a faint colour to layer the romantic intrigue or dash it on with a contrasting colour for a dramatic appeal.
Get your free consultation today!
Ready to include your ceiling into your room's design? Give us a call today at (416) 920-4482 or email us to schedule your free initial consultation. Or, ask us for a quote. At ColourWorks Painting Design, we will help you develop your ideas and choose the best paint to accomplish the ceiling design of your dreams. Enjoy the dramatic and entrancing effect of a statement ceiling in your favorite space and watch as the rest of the room practically decorates itself.